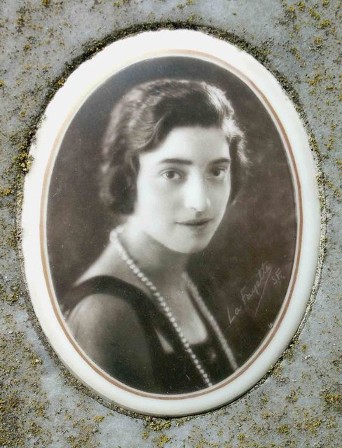 Mina A. Maffei
"Died June 29, 1921 aged 19 years"
Mina's formal portrait is signed by "La Fayette," a famous early 20th-century portrait studio. The 'SF' indicates a San Francisco based location."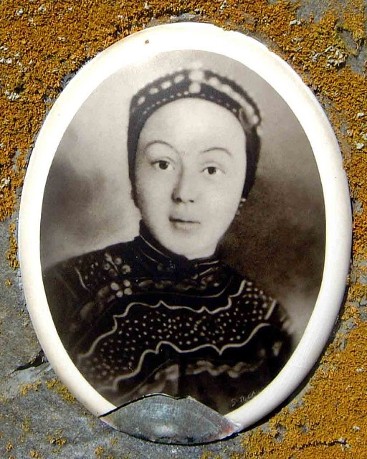 Bessie Wong 1901 - 1924
Bessie's formal portrait is also signed in the lower right corner probably by the photographer "S.Tou."
Forgotten Faces now includes over 80 sumptuous portraits from the Italian Cemetery in Colma. The Italians refined the art form to it state of development. Their images are varied, creative, personal and visually engaging.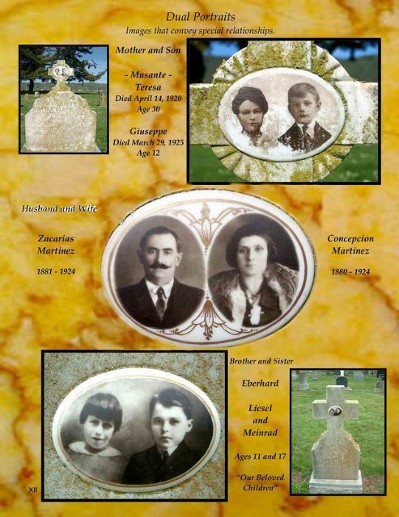 Portraits that convey a special relationship.
See the Arts and Antiques Magazine article on Forgotten Faces by clicking on the link at the bottom of the page.
Annie Corcoran
"Died Feb. 22, 1925, Age 87 years
In Memory of Our Mother"
Some portraits include an image of someone who couldn't be present for the photograph. Annie wears a portrait within a portrait. Notice the photo of the absent loved one on her brooch. Like many portraits, Annie's reveals details we wouldn't know from the epitaph alone.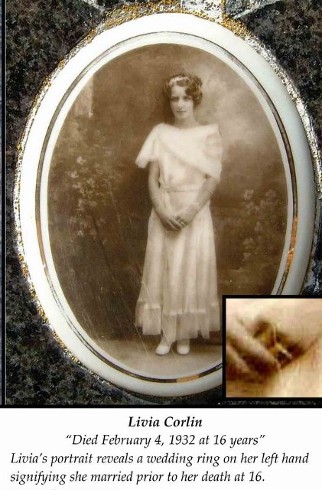 Portraits reveal details of a person's life that we might never know through their epitaph alone. They often generate mixed emotions by presenting pictures of the living on the stones of the dead.